Occupational Health and Safety
Health is the most valuable asset to any individual. We hope to provide employees an environment where they can work free of safety concerns, therefore we maintain a security system, organize regular disaster/fire safety drills, promote environmental safety, and offer employees recreational facilities where they can relax after work. In doing so, we hope to make employees feel satisfied and at peace with their work, and thereby reduce the chances of work injury and absenteeism.
Occupational Safety and Health Management System Certification
To protect the occupational safety of employees at work, we have not only established the Environmental Safety and Health Policy but also established relevant procedures and documents of the "Occupational Safety and Health Management" at each plant site in order to rigorously control details of each workplace. In addition, we further request each plant site to quality the ISO45001:2018 in order to ensure that employees and all workers stationed in the plant sites are not exposed to hazards at work, or suffer from injuries due to erroneous operations. The certification includes the items of occupational hazards identification, emergency response measures, contractor management, etc. Through procedural document control, and through repetitive verification of PDCA, the employee work safety can be implemented. The occupational safety and health management system applies to all working personnel (including stationed workers) at the plant site. In addition, each plant site is requested to implement educational training.
Access Control Implementation
For strict access control with compliance to the ISMS Standards (Information Safety Management System), Compal requires employees to wear staff IDs within plants. The access card system at each entrance and exit controls personnel's access authority. For clients, suppliers, and other visitors, a security system is used to record the time of the visit, the number of visitors, and regulate the areas and time open to visitors. Compal's security personnel work in shifts 24-hour hours a day to control the entry of personnel and objects, perform safety inspections day and night inside and outside plants, monitor the presence of visitors and overtime workers, check incoming/outgoing vehicles, and perform traffic control.
Environment Inspection
To provide a safe workplace and community for our staff and residents, each plant has been staffed with a unit responsible for a routine inspection, maintenance, and identification of hazardous factors in the work environment. For example, Traffic safety measures, power safety measures, security measures, drinking water tests, emergency lighting, smoke detector tests, fire safety equipment tests, lightning protection tests, and effluent tests are all part of the inspections performed by this unit. The Smart Devices Business Group at Taiwan Headquarters tests office lighting, CO2 concentration, and electromagnetic absorbency rate and lab organic solvent concentration twice a year. The environment inspection items of the Pingzhen factory include noise, lighting, CO2 and chemistry monitoring and 2 inspections are arranged every year. The R&D Center of the Smart Devices Business Group conducts environment inspection of 3 items, CO2, lighting and 2-Butoxyethanol, biannually and water inspection quarterly.
Workers Safety Exercise and Education
Compal implements employee safety educational training courses to allow employees to understand the safety of the plant site and possible hazardous risks. In addition, the Company also assists employees to understand the disaster level and response measures, escape moving lines, etc. according to the "Emergency Response Measure Management Procedures" and no disciplinary actions are imposed on employees leaving works due to the emergency evacuation. In addition, we further cooperate with the instructions of the regional fire squad to implement fire prevention training, and periodic fire prevention knowledge promotion for employees are executed annually. We design teaching materials and provide courses through the online learning system of e-learning or physical courses. The content of the training courses includes rich and correct handling response methods for fire, wind disaster, flood, earthquake, etc. To help employees build up awareness towards preventing disasters as part of daily life, for the fire that is most likely to occur, the Company organizes fire drills to make employees understand the important steps and facts about fire prevention. Fire drills are implemented every year at all plants worldwide; the progress of which is posted on the intranet for future reference. The fire drills of the R&D Center and each plant are held in compliance with the times and hours of the law and regulation.
Occupational Safety Committee
Compal's plants are established with the Occupational Safety Committee, and meetings are convened according to the occupational safety and health management system (ISO45001) to discuss occupational safety-related matters, in order to facilitate the communications and consultations among internal departments and all levels of the company as well as among external related units and groups, as well as to ensure the working environmental safety of employees.
We explicitly specify the responsibilities of the managerial representatives and participating members according to the management of the "Environmental and Occupational Health and Safety Handbook," "Environmental and Occupational Health and Safety Policy Establishment Policy," "Environmental and Occupational Health and Safety Internal Audit Management Procedures" of the plant sites, and through the procedures of "Environmental Safety Improvement Communication Procedures." Employee representatives shall participate in the development and review of safety and health policies and relevant procedures.
Prior to the meeting, if any unit has doubts or specific recommendations on the current method, it can be submitted to relevant units, such as Facility Affair Department. After the receiving unit receives the notice, the "Environmental Safety Improvement Recommendation Form" is completed in order to feedback issues to relevant units, executing unit, thereby facilitating the swift resolution of such issues. If such the issue cannot be resolved timely, it will be discussed in the committee meeting.
Occupational Safety Management Certification
BU

Operations

Certification

Certificate Body

Validate Period

No.

PCBG

PCP

ISO 45001:2018

SGS

2021/9/14

TW18/10437

CKY

ISO 45001:2018

SGS

2023/3/18

TW18/10184

KS

ISO 45001:2018

CQC

2022/7/24

00119S31544R5L/3200

ISO 45001:2018

CQC

2024/2/24

00121S30602R5L/3200

ISO 45001:2018

CQC

2022/7/25

00119S31540R5M/3200

CD

ISO 45001:2018

CQC

2022/7/4

00119S21312R2M/5100

CQ

ISO 45001:2018

CQC

2024/8/4

00121S32323R3M/5000

VN

ISO 45001:2018

CQC

2022/9/29

00119S32157R0M/3200

SDBG

KS

ISO 45001:2018

CQC

2023/4/8

00120S30697R2S/3200

CDE

ISO 45001:2018

CQC

2024/1/8

00120S33221R2M/3200

NJ

ISO 45001:2018

CQC

2024/5/23

00121S32631R2L/3200

CQA

ISO 45001:2018

CQC

2024/4/10

00121S30888R1L/5000
Emergency Response Measures and Accident Notification
Each plant area is equipped with Emergency Preparedness and Response Measures, and the documents explain in detail the "Risk Description", "Emergency Organization and Responsibility", "Prevention and Internal Notification", "EmergencyResponse", "External Information Release", "Follow-up Treatment ", etc., and the handling procedures of various risks are listed in detail. In case of any accident or injury due to natural disaster in Compal plant, the accident unit shall inform the unit supervisor and relevant unit personnel according to the procedure of occupational safety and health management system. Traffic accident handling: in case of any accident outside the plant of vehicles carrying Compal products, the accident shall be reported to the transportation company and then to the Plant Affairs Department. In case of vehicle damage or personal injury, the accident shall be reported to the police unit in the jurisdiction. Accident injury management (including death, disability, minor injury and traffic accident injury): report to the immediate supervisor first, and go to the hospital for first aid. The supervisor of the accident unit shall notify the Plant Affairs Department within three hours regardless of the severity of all injuries. The statistical results of occupational hazards in Taiwan shall be filled out in accordance with the regulations every month, and the Occupational Safety Office shall report to the Occupational Safety and Health Center of North District for future reference online. The detailed notification process shall be implemented in accordance with the procedure documents. According to the regulations, Compal's plants can only sign cooperation contracts with legal agencies. Guards, group meals, cleaning personnel and other on-site staff are all guaranteed by the contracts. In case of any accident of on-site staff, first report to the team leader or management personnel directly under the team, then report to the person in charge of the plant for on-site confirmation, assist the injured to seek medical treatment and insurance.
Prevention and management of infectious diseases
Due to the impact of novel coronavirus pneumonia (NCP) in 2019, many precious lives and their health have been taken away from the world. To build up a safe society, our livelihood habits and economic patterns have thus been changed while implementing related anti-epidemic measures. The primary task of the company is to take care of its employees, provide work assistance, and maintain organizational operations. The implementation of these epidemic prevention measures has also affected our working partners, such as shareholders, customers, suppliers, or the media, tangibly and intangibly. With continuous revision of these epidemic prevention measures, we are then able to take the health of employees as well as operation of organization into account, hence minimizing impact.
At the beginning of severe epidemic in 2019, Taipei head office had immediately set up an epidemic prevention team to formulate and implement relevant epidemic prevention measures. In 2020, the company continues to monitor and flexibly adjust its epidemic prevention policies, and always pays attention to the actual situation of epidemic delivered by the Centers of Disease Control (CDC) of the Ministry of Health and Welfare (MOHW). The following are the five major aspects of control for epidemic prevention measures taken at the headquarters.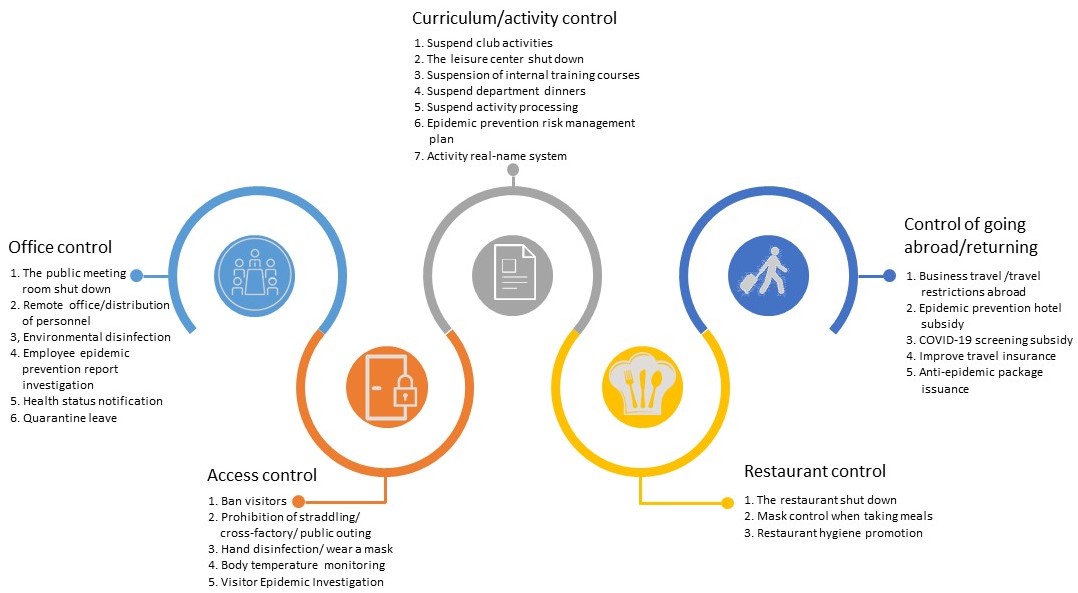 Taipei office area conducts epidemic prevention management through "Health Management System" and epidemic prevention hotline. To effectively enable employees to report health status, contact history, or return to Taiwan from abroad, etc., a report mechanism is established with the health management system so that it helps management staff to master health status of employees effectively via the system. More, since epidemic prevention measures will keep changing with epidemic developments, employees can also learn about relevant epidemic prevention measures through this platform, employee suggestion box, or dial epidemic prevention hotline. Overseas factories are comprehensively monitored and prevented from epidemic spread through multiple channels as employee suggestion boxes, CQ580 mailboxes, fill-in with scan codes of WJX, 580 platforms, phone declarations, and related WeChat groups.
Updated on September 13, 2021