Sustainable Management / Letter from the Executive Officers
"Innovation, harmony and excellence" is a corporate commitment of everlastingness, co-prosperity, and sustainability.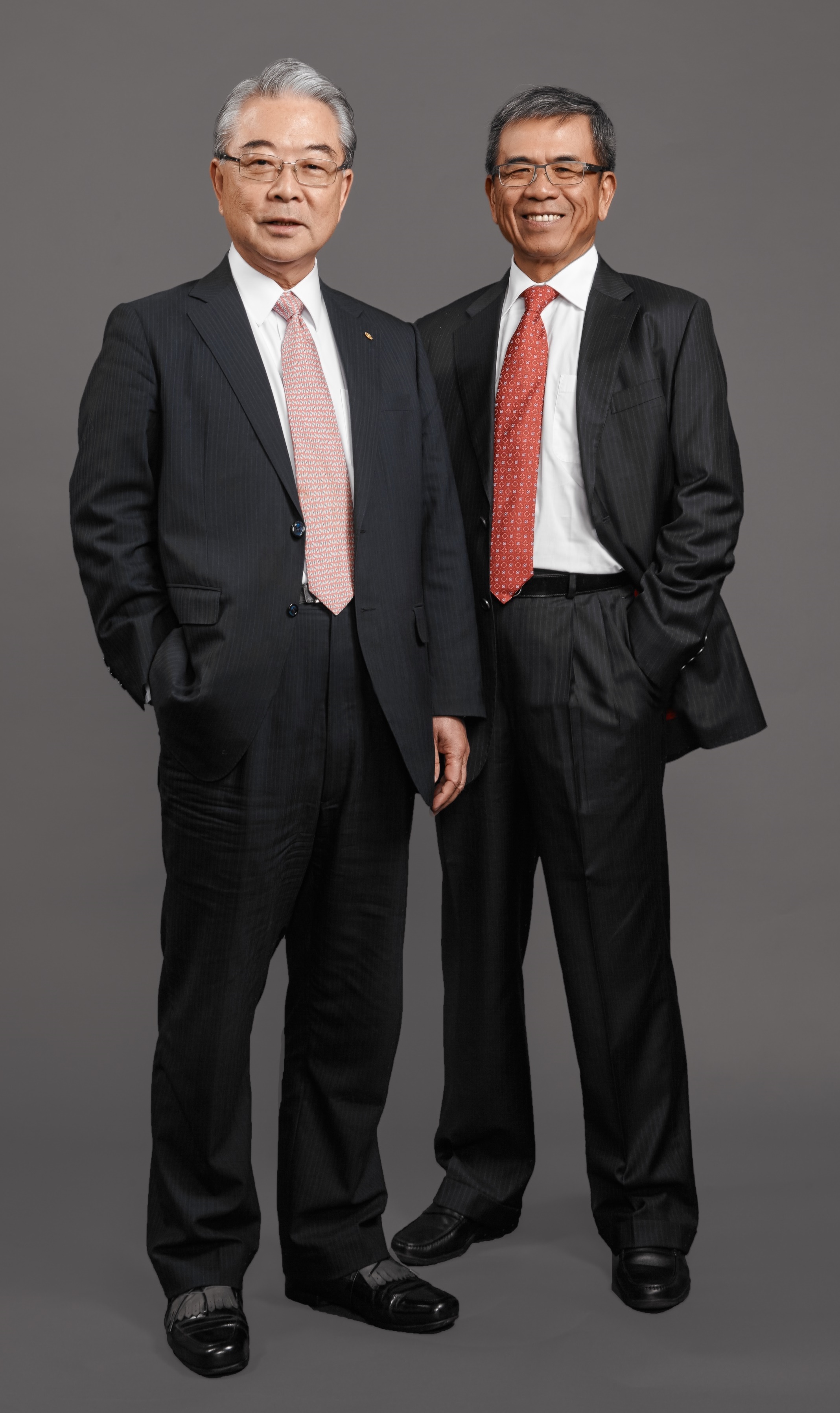 In 2017, manufacturing met the challenges of the shortage and price hike of components, labor shortage in China, and fluctuation in exchange rate. Fortunately, Compal still had good business development and breakthroughs due to the efforts made by the employees. The overall shipment of 5C (Computing, Communication, Consumer, Channel, Car Electronics) related electronics only increased 1% compared to the previous year, but the consolidated sales revenue grew 16% and reached NT$887.66 billion compared to the previous year, revealing Compal's capacity. We also had continuous results in innovation investment and new business development. In the future, while we continue to focus on our core competitiveness, we have also been developing other non-notebook PC businesses such as automobile electronics, industrial computers, smart healthcare, smart devices, and the Internet of Things (IoT) to reach the strategy of diversity. In 2018, through these gradually maturing new business models and business groups, Compal's revenues should grow to account for 34% due to these non-notebook PC businesses.
In 2017, Compal was again ranked among the top 6%-20% of all publicly-listed companies on the Taiwan Stock Exchange Corporation's (TWSE) "Third Corporate Governance Evaluation". Also in the same year, we earned 5th place in CommonWealth Magazine's "Top-2000 Manufacturer," ranked in Forbes' "Global Top 2000", and in Fortune's "Global Top 500". Compal's investments into innovation were rewarded with 4 awards during the "iF Design Awards," and ranked 27th and 31st in the Company's global corporation ranking and global innovation ranking. These achievements displayed our determination and results of "innovation, harmony, and excellence". Currently, we have settled down solidly and marched on.
The environment is one of the important items that cannot be ignored when corporate seek operation. Only through the co-prosperity of environment, economy, and society can the Company be sustained. To avoid operations producing a negative impact on the environment, besides setting an environmental sustainability policy, Compal has also taken steps to ensure that all its production sites are certified for ISO 9001, ISO 14001, ISO 14064-1, and OHSAS 18001. By implementing systematic management, we are able to keep track of and control our environmental performance. To reduce the environmental burden from energy usage, we start with energy management. By developing new energy-saving methods, selecting energy-saving equipment, and introducing ISO 50001 energy management systems from external assistance, we plan to complete the certification in Pingzhen, Kunshan, and Chengdu plants at the end of 2018. Meanwhile, Compal has set its greenhouse gas management target to reduce emissions per million dollars of revenues (NTD) by 10%, as compared to the baseline year (2014), before 2030. We began greenhouse gas surveys (scopes 1 and 2) and carbon footprint assessments in 2010, ahead of all industry peers. The scope of the greenhouse gas survey has since been expanded to scope 3. We have been chosen in CDP climate change investigation for 4 consecutive years (2014-2017) and received an overall CDP score of B and were rated Management in 2017. Energy-saving projects were implemented throughout all plants, reducing carbon emission by 3,432.70 tons CO2e.
Employees are the most valuable asset of the Company, appreciating them is the convention we always bear in mind. This is why we recruit employees and assign them to duties based solely on talents. We also provide employees with a safe and healthy working environment, comprehensive career plans, and competitive salaries and benefits so that they may devote themselves to work free of worry. In the meantime, the Company uses a variety of communication channels to care for employees and understand their needs. Through efforts such as health promotion events, we offer our employees opportunities to develop their strengths and promote their quality of life.
As a technology industry, eliminating the urban-suburban gap is our basic mission. All year long, Compal continues to make contributions to society by collaborating with the Chau-Ing Hsu Foundation in the counseling of the disadvantaged children in remote areas and donating computer equipment to help nurture future talents for the country. In addition, social care activities prosper in Compal's factories, from blood donations to save lives, rucksack charity auctions to buy kindergarten school buses, to a public welfare road run to raise funds for children with cancer, we deeply appreciate our employees' contributions to society.
In order to enforce our commitment to the economy, society, and environment while at the same time responding to the UN's sustainable development goals (SDGs), we have set our goals as follows and urge ourselves to face every challenge in the future:
Enhance internal management, CSR management procedure, organization performance, and collaborate with our customers to promote CSR policies that conform to RBA and other international regulations.

Support the UN's SDGs 17 goals and promote economic, social, and environmental related policies and activities.

Mitigate and adapt to climate change; continue green product design; build technological innovation capabilities to mitigate the impact of climate change and increase product safety.

Promote corporate sustainability and environmental education DNA and ingrain the concept of sustainability in every employees' healthy life.
Compal realizes that to achieve sustainable management is to have commitment. As a responsible enterprise, we hold a belief in law and discipline, integrity, and the pursuit of self-innovation and transcendence. Applying high standard corporate governance, we build a team with a familial climate to provide customers with the latest and most comprehensive services through continuous innovation of products and technology. We also integrate the upstream and downstream supply chain to build a green working environment that does not compromise the future of later generations while taking responsibility for economic, social, and environmental impacts. Through the actions of "seeking the common good" and contributions to society, we expect a better future for everyone.