Environment / Green Product
Green Products
Compal's green product designs are based on the concept of "Product Life Cycle". We take into account a product's environmental impact from raw material purchase, production, shipment, and usage all the way to its disposal or recycling at the end stage. In the design phase, developers are required to focus not only on users' requirements, functionality, and added value but also to "minimize environmental burden" on each of the different stages.
Inspired by decades of practical experience, Compal believes that green products must possess three design features: "green materials", "energy efficiency", and "ease of dis-assembly/recycling". Compal's environment-friendly designs have also been aligned with international trends and the needs of its stakeholders and customers to achieve the best eco-effectiveness.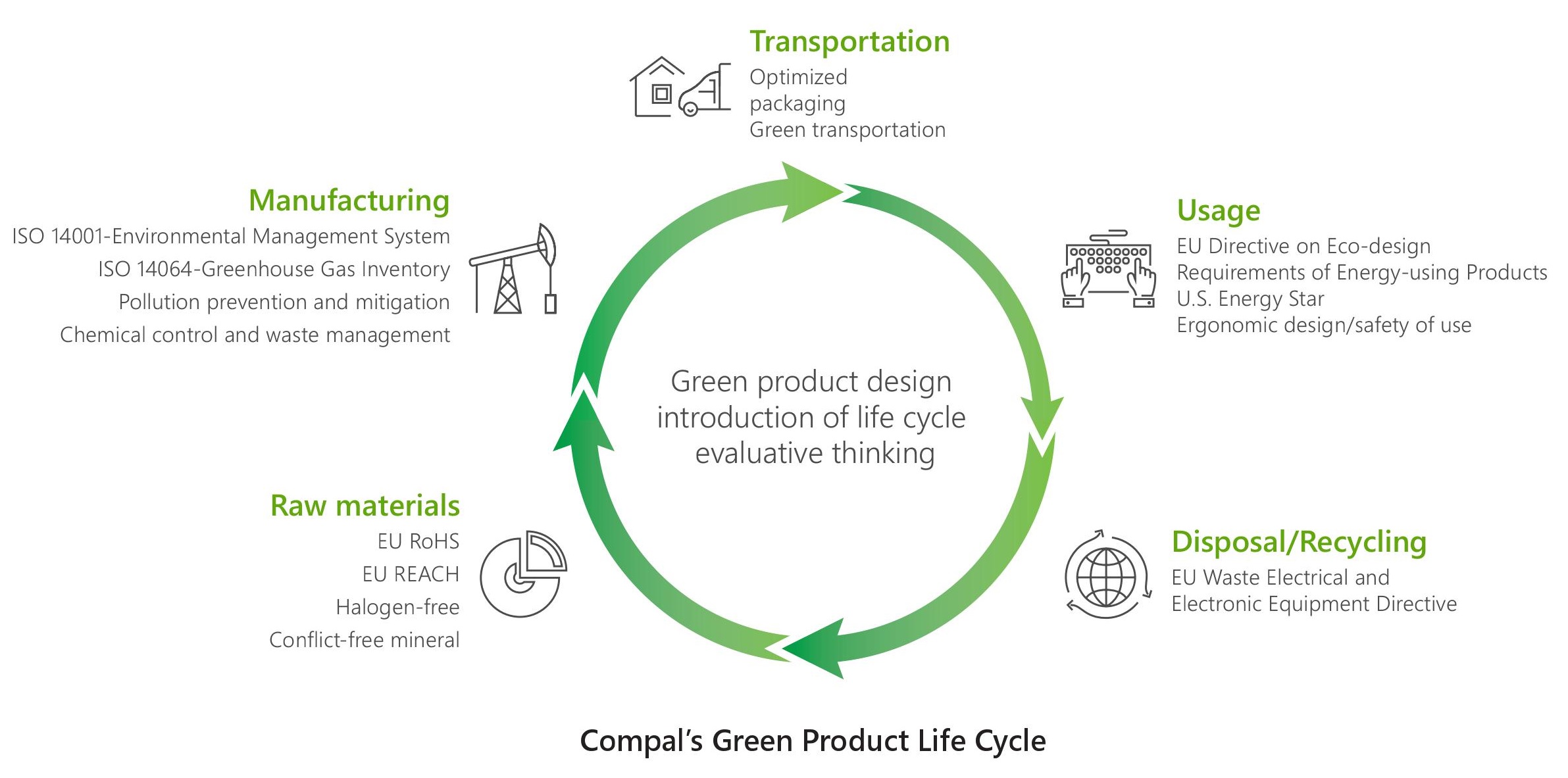 Compal's Green Product Life Cycle
Energy Efficient and Low-carbon Design
EU Eco-Design Requirements for Energy-relative Products and U.S. Energy Star
All electronic products manufactured by Compal conform to the latest energy standards, such as the EU Eco-Design Requirements for Energy-relative Products and the U.S. Energy Star. Compal has been systematically improving the design capability of its software and hardware developers and plans to introduce modularized designs. Checklists prepared by hardware and software departments are being duly executed, while quality control tests are rigorously performed for mass-produced products to ensure compliance with laws at the time of shipment. Furthermore, Compal constantly keeps itself informed of the latest developments in energy regulations so that the Company can plan and prepare ahead, assess risks in advance, and ensure product compliance with the latest rules and certification.
Ease of Dis-assembly and Recycling
Rapid advancement in technology has shortened the life cycle of consumer electronics, resulting in the increasing amount of waste that adds a burden to the natural environment. In order to minimize the threat to natural resources, prevent hazardous substances from being released into the environment through waste, and relieve the recycling system of increasing volumes of e-waste, it is increasingly important for electronics manufacturers to design products in ways that minimize potential pollution and recycling in the future.
EU Waste Electrical and Electronic Equipment Directive
For Compal, issues such as waste reduction and re-use of resources have already been taken into consideration during the design stage, where environmentally friendly materials are used as much as possible while numerous design improvements are introduced to make products easier to recycle. The following are some of the environmental, sustainable, and renewable designs that Compal has put in place:
1. Prohibit or reduce the use of hazardous substances
2. Use only one type of plastic materials where appropriate
3. Introduce renewable and bio-degradable plastics into electronic products
4. Use plastic materials that are compatible with surface treatment materials so that products can be recycled and reused
5. Design products in ways that are easily disassembled and recycled
6. Use modularized designs so that main parts can be replaced and upgraded, hence extending the product life cycle
7. Print recycling labels on packaging materials as a reminder to consumers
8. All plastic objects weighing 25 grams and above have contents labeled in detail to facilitate recycling
All products supplied by Compal in recent years have been designed in accordance with WEEE (Waste Electrical and Electronic Equipment Directive) standards, which require at least 65% of materials to be recyclable. For main notebook brand clients, products have even been designed to enable a 96%-100% recycling rate.
Packaging materials offer the cushion needed to protect goods from the collision during transportation. Compal has continuously improved packaging design with the goal of reducing, simplifying, and making the optimum use of packaging materials for a lesser impact on the environment. Progress achieved in recent years includes:
In 2010, the number of products that could be stacked on one pallet was increased from 60 to 84, up by 40%. The "dog bone" design saved the use of packaging materials by more than 80% and made room on the two sides of the box for the power adapter and cables. Furthermore, products can be packed straight at the production line without having to assemble packaging materials beforehand, which saved 3 minutes per unit.

In 2011, Compal introduced its patented square package design that not only required fewer resources but also enabled consumers to keep the package and use it as a storage box.

In 2012, further improvements were made to the cushion structure, making them smaller and thus cheaper to transport, while at the same time replacing EPE materials with 100% recyclable cardboard.

In 2014, Compal managed to reduce the cost of packaging materials by 10-15% and increase the number of products per pallet from 78-84 to 102-120.

In 2015, Compal optimized EPE cushions for notebook PCs by consolidating the old 3-piece design into a single piece. In doing so, the Company reduced the use of packaging materials by 50%,

the materials surface

of 48%, and work time by 67%.

In 2016, the Company focused on improving the packaging process for higher production efficiency.

In 2017, the Company massively increased use of automated equipment on picking, sealing, labeling, and exterior examining before shipping to reduce the human error rate.