Stakeholder Engagement
Purouse of communication with Stakeholders
Compal believes that effective engagement with stakeholders is the main goal of communication. Only by finding the most important stakeholder can we shorten the unnecessary process in communication. The following communication goals were set after discussions by the ESG teams for disclosures through the report:
Enhance communication with customers, supply chains, and investors to seek their approval on Compal's implementation of sustainability.

Enhance employee participation in sustainability as well as boost employee rapport and loyalty by embracing sustainability on a corporate level.

Effective communication with the government, media, and communities to understand and respond to their demands in an appropriate manner.
An editorial team was assembled by the CSR Office for the purpose of this report. Using the AccountAbility Stakeholder Engagement Standard (abbreviated as AA1000 SES below) and related information provided by the business, the editorial team has selected various possible stakeholders. After the discussion and evaluation of weight (responsibility, influence, tension, reliability, multiple perspectives) by the editorial team, 8 types of Compal stakeholders are selected, namely: customers, employees, investors/shareholders, suppliers, government agencies, media, community residents, and non-profit organizations.
The Company has channels set up to facilitate communication with each of the above stakeholders, while individual units have also been created to communicate with specific groups of stakeholders.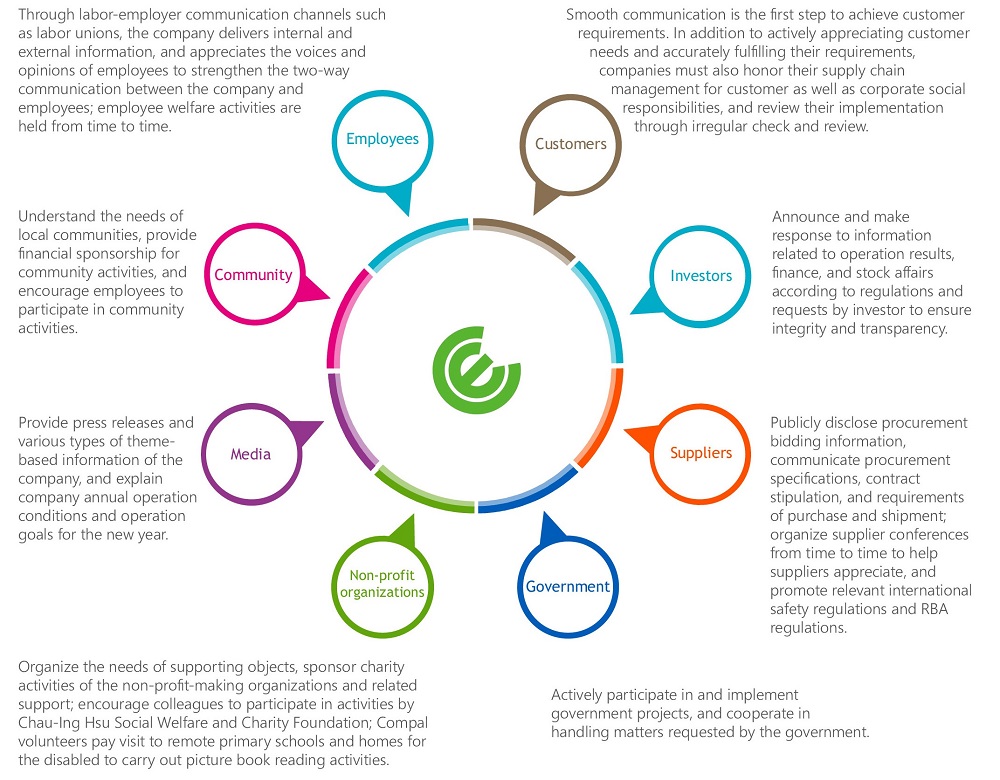 Stakeholders'Communication Channels