Employee Relationship / Talent Cultivation
We use systematic methods to plan employees' training and
development,
and provides a variety of training programs to fulfill different needs. Whether it is the orientation for new recruits, advanced management skill training for senior managers, individual training targeted at enhancing work efficiency, or team-building activities aimed at uniting employees toward a common goal, we design our training activities specifically for each job role and grade. We have also developed an all-
around training system that applies different training methods to different
employees for the maximum effect.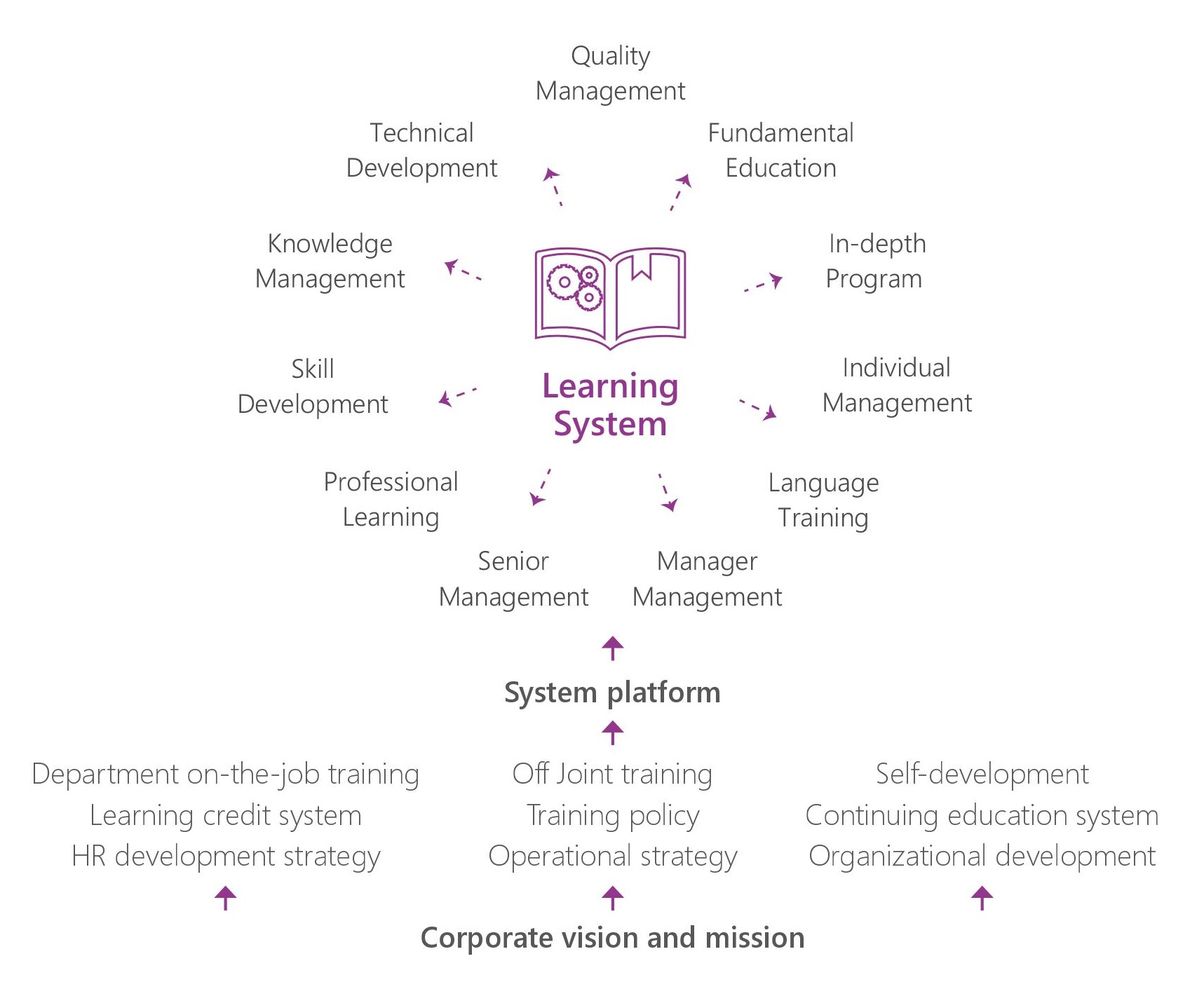 Career System
Compal's career system has been established to support the Company's overall strategies, talent plans, organization structure, and corporate vision. Each year, Compal re-defines the focus of its talent development by identifying the key skills needed to support its operating strategies and organizational development. A training plan is then devised based on talent requirements at different levels of management. The annual training plan is executed with the help of department managers, who guide employees in identifying areas that require improvement and making personal development plans in reference to the career roadmap.
Versatility Development
Apart from professional skills and management knowledge, Compal also provides training for other skills that may be relevant to
work,
and designs programs that complement employees' career development. Compal's career development model consists of 9 main modules, designed to satisfy employees' needs at different stages of their career. Furthermore, Compal values the physical and mental health of every individual, and thus provides related training programs as required by law.
In addition to meeting short-term staff requirements, Compal also makes plans for long-term talent development. Employees who are willing to develop language skills or participate in on-job training are offered fixed amounts of subsidy each year to help broaden their visions and advance in their careers. For senior managers or specialists, we collaborate with other members of the group to have retired senior executives hired as consultants. Their expertise should contribute useful recommendations and assistance to other members of the group, and help implement Compal's successful experience where it is needed the most.
Headquarters R&D HR team activities
Compal has set up a "R&D HR Team" for the R&D unit, through which Compal is committed to creating a high-quality working environment in which employees learn and use each other's strengths. Compal has also established an effective communication channel and an objective performance reward system, so as to enable R&D colleagues to give full play to their strengths and continuously strengthen their competitiveness, so as to achieve the goal of "working hard and living a wonderful life".
In 2020, we have practiced our goals through the following projects:
According to 2020 results, the group had completed 111 session of courses and events, 4648 people participated, and the satisfaction rate of employees reached more than 90%. Compal attaches much importance to on-job development of employees, and hopes that the project can enhance corporate cohesion of colleagues and bring about more sense of accomplishment to them in their careers.
Updated on September 13
, 2021