Talent Cultivation
Compal's talent cultivation has been established to support the Company's overall strategies, talent plans, organization structure, and corporate vision. Major development priorities and projects are devised according to organizational goals and departmental goals, a comprehensive learning development system and learning blueprint are constructed according to functional development needs, and employees are provided with a wide variety of channels to learn from. We are also committed to motivating employees to learn independently, planning a Compal credit system to evaluate the learning effect, and creating a continuous learning atmosphere in the organization.
Global Training Data in 2022
Training and Development data
Note 1: The data covers the period of 2022/1/1-2022/12/31.
Note 2: Average hours of training per person = total hours of training / total number of employees / Average cost of training per person = total cost of training / total number of employees (currency: NT$)
Classification of Training and Development data: Direct employees vs. indirect employees
Training and Development data: Managerial vs. non-managerial positions
Classification of Training and Development data: by gender
Classification of Training and Development data: by age, nationality, and training type
Note : Definition of training types: Internal training is defined as training planned and organized by the Company; whereas external training is defined as training carried out by external training units for employees of the Company.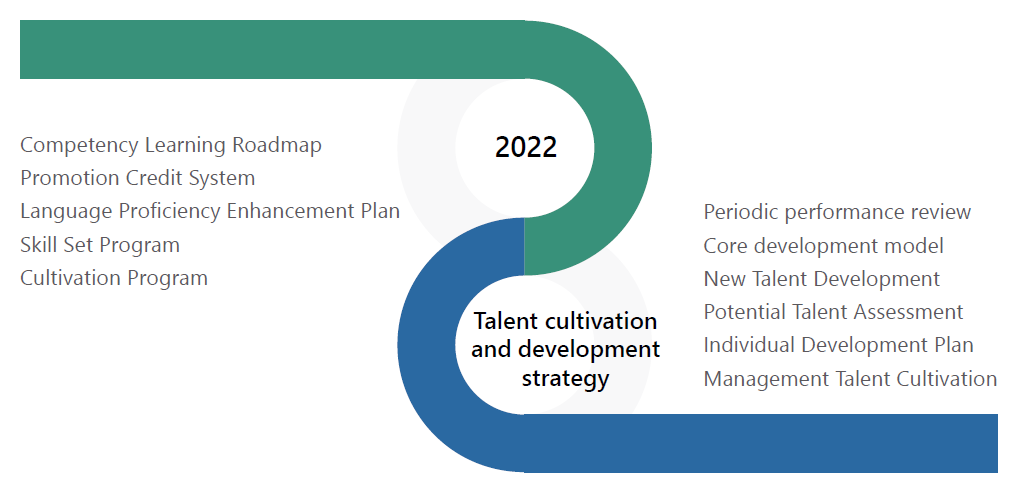 Diverse Learning Channels
Compal has developed a comprehensive internal learning management system for talent cultivation. The Company's learning resources are integrated through e-learning so that employees at all Compal plants can share in our extensive knowledge and learning platform. The E-learning platform offers personalized learning for employees so they know their exact academic progress. The learning roadmap can also be used to track progress., Big data analysis is even used by Compal to obtain a full picture of learning & development by employees. Compal's continued promotion of e-learning saw global cumulative visits reach 530,000 in 2022, up 14% from last year.
Employee Development Programs
Program 1. Promotion credit system
To ensure that every Compal employee possesses the abilities and knowledge required for their role when they are appointed to a new management position, hierarchical learning courses were developed for different competencies. By enhancing the employee's character and ability, we can satisfy the needs of organizational development and maximize training perform through more effective use of training resources. The system is also used to help employees develop their personal learning plan, encourage self-learning and development, and boost their motivation to learn. Employees can use it to track their progress, set learning goals and milestones, and manage their learning performance. Between 2017 and 2022, training was conducted 19,671 times for a total of 143,779 training hours. Aggressive promotion each year saw a tripling in the number of training sessions and hours in 2022 compared to 2017. Compal will continue to implement this program in the future to cultivate sustainable talent development.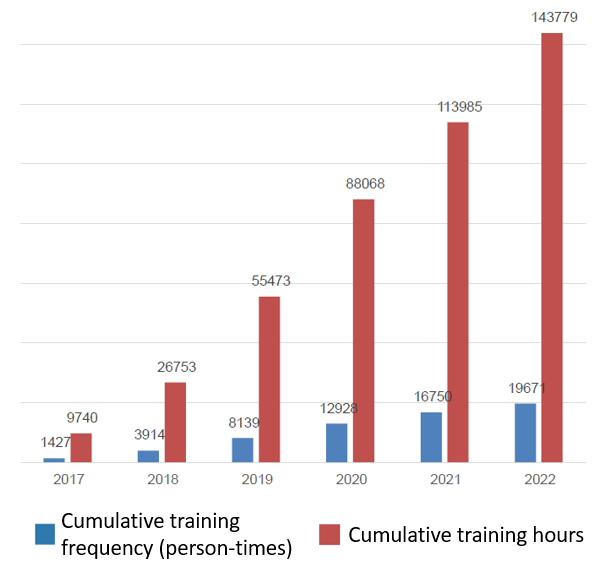 Business Benefits to the Enterprise
☆ Establishing Compal's common language and comprehensively promoting the training system from top to bottom
A long-term project, the promotion credit system has been in place for more than 5 years. Through the implementation of this plan, each employee, when being promoted from an individual worker to a middle/senior manager, is able to further enhance their career options by taking practical training provided by the Company. In 2022, 43.2% of employees improved abilities required for new positions due to the promotion credit system, and the promotion rate of participating employees has reached 24.7 %. This promotion credit system has created a positive atmosphere in Compal's corporate culture, moving the Company towards the goal of a common language requirement for the talent pool.

☆ Implementing a training mechanism that is open, transparent and complete
At Compal, we clearly define the skill sets required for each position, and design an open and transparent training mechanism to align the growth of employees with the development goals of the Company. In addition, the training mechanism can also enable the front-line grassroots personnel to clearly understand the Company's vision, focus on the direction of their personal development, know in advance the capabilities they need for the future, to give them a head-start on preparing for their future with Compal. As for the upper-level managers, will learn to more clearly understand the capabilities of their subordinates and give full play to the strengths of their subordinates, while finding out their weaknesses to help strengthen them, so as to retain high-quality talent for the Company, and gather a coherent group of employees all moving in the same direction.
Overall, through this plan, Compal has created an environment for employees' independent learning, shaped a transparent management system, integrated training resources across the Company, and reduced the cost of manpower and time in repeated training. In the future, through the strength we have, we will continue to expand our understanding of sustainable development, promote all global sustainable development goals (SDGs), and do our best to give back to society!
Program 2. Individual Development Plan
In 2022, a total of 1,969 employees participated in this program, and the retention rate of those participating employees reached 96.65 %, which helps Compal continue to shape high-quality talents, construct key knowledge, and enhance the overall competitiveness of the Company.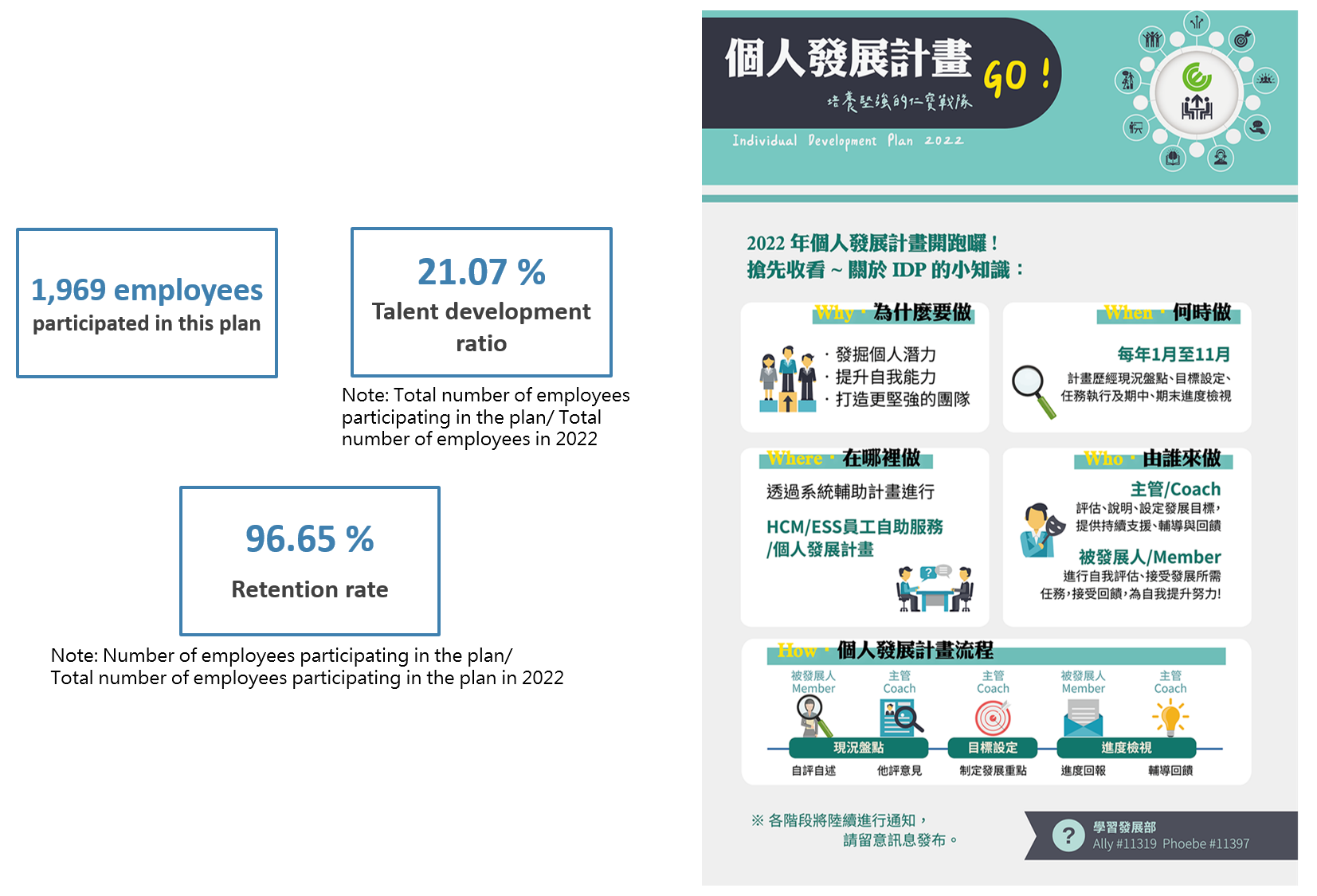 Language Ability Improvement Program
In order to improve employees' English ability, international perspective, and cross-cultural understanding in response to the advent era of global competition, we provide a diversified English learning environment so that the organization can be connected to the global market.
Periodic Performance Appraisal
New Employee Training Program
Physical course

Orientation training for new recruits

Company Introduction, human resource system, welfare policy, information operation instructions, etc.

Compal talent training class

Workplace role definition, workplace culture, emotional management, workplace communication, etc.

Online course

On-the-job training for new recruits

Quality management, information security, codes of conduct for employees, prevention of workplace violence, etc.

Workplace adaptation course

Career planning, manage upwards&downward, peer relationship management, etc.

Occupational safety and health workshop

Regulation introduction, code of practice for labor Safety, safety awareness, etc.

Common sense of fire safety

Fire prevention, escape plan, equipment introduction, etc.

Employee Care

Counselor system

One-to-one counseling system to help newcomers adapt to the work content

Online questionnaire for new recruits

Investigate adaptation during onboarding

Newsletter for new recruits

Resources and tips for newcomers
Management Talent Training
Human Capital Return on Investment (HC ROI)
Note 1:HC ROI = (Revenue- (Operating- Employee related expenses))÷Employee related expenses