Conflict Minerals Management
Conflict Minerals
Paramilitary groups in Congo and its surrounding countries are often funded by mines extracting four types of minerals (Tantalum, Tin, (Tungsten, and Gold) (commonly referred to as "3TG"), resulting in bloody regional conflicts. A law was therefore passed by the U.S. Congress to ban the use of conflict minerals. Though an assessment determined that 3TG is essential to the functioning of electronic products, as a member of the Responsible Business Alliance (RBA) Compal must ensure that it and its suppliers adhere to the RBA Code of Conduct on sourcing of non-conflict minerals. At the same time, Compal is also continuing to review and assess the necessity of 3TG, and fulfill our corporate social responsibility by requiring suppliers to pay attention to issue of conflict minerals as well.
Compal drew up the "Supplier Conflict Minerals Management Procedure" in 2010 and has since investigated hundreds of its suppliers (electronics, machinery, and raw materials) located throughout China (in southern and coastal areas), Europe, and America (including factories, dealers, and worldwide distributors); suppliers must also sign a commitment to not use metals mined and sold from mining regions controlled by the paramilitary groups mentioned above. By instituting self-discipline within the supply chain, we hope to exert a positive influence on the issue of conflict minerals.
Conflict Minerals Policy
Compal's Conflict Mineral Policy was officially implemented in 2016 and we began conducting conflict mineral investigations on suppliers. After completing the investigations, we continued to monitor RMI (Responsible Minerals Initiative) qualified smelters and announced important RMI updates over the Compal procurement system thereby assuring compliance of minerals sourced from the supply chain. Compal began actively communicating our policy on non-use of conflict minerals through the corporate website and requiring supplier compliance as well in 2018; suppliers are also encouraged to source their minerals from non-conflict mineral smelters verified by the Responsible Minerals Assurance Process (RMAP) or some other equivalent independent third-party audit programs to ensure that only minerals with a reliable source are used in products. Cobalt was added to the scope of conflict minerals investigations by RMI in 2019. Compal followed their lead by initiating due diligence on Cobalt and Mica, and adding the two minerals to the declaration on No Use of Conflicts Minerals in 2019 and 2020.
Compal's Conflict Minerals Investigation Management Process
The Compal conflict minerals management mechanism was established in accordance with the "Due Diligence Guidance for Responsible Supply Chains of Minerals from Conflict-Affected and High-Risk Areas issued by the Organization for Economic Cooperation and Development (OECD).
1. Establishment of Management System
The Compal Conflict Minerals Policy was implemented in 2016 and 100% response rate of conflict minerals questionnaires was achieved in 2020.
Compal Conflict Minerals Policy
No sourcing of conflict minerals from conflict areas.

Formulation of Conflict Minerals Policy with suppliers strongly urged not to use the Conflict Minerals either directly or indirectly in the raw materials they supply.

Expect suppliers to fully use approved smelters or require existing smelters to verify that they will take necessary measures to stop using the conflict minerals if they are found to have conflict minerals in their products.
For more information, please refer to the Compal Conflict Minerals Policy:
https://www.compal.com/CSR/Upload/ArticleImages/2022/08/31/2022083117313607.pdf
2. Identification and Risk Assessment
The Conflict Minerals Reporting Template (CMRT) is used every year to identify the sources used by suppliers' 3TG smelters. Suppliers are also required to sign a declaration confirming that they will comply with Compal's Conflict Minerals Policy. The list of RMI approved smelters will continue to be tracked after the completion of due diligence with active assessment and management of the supply chain to ensure that the minerals used do not contain conflict minerals from regions with paramilitary conflict. The latest list of RMI approved smelters will also be communicated to end-customers on an ad hoc basis to ensure that customer products are not affected by conflict minerals.
3. Execution of Risk Response Strategy
Compal has adopted the following proactive measures to ensure the safety of minerals in the supply chain
Suppliers are required to sign a declaration confirming compliance with the Conflict Minerals Policy.

Actively support the RMI program and communicate important RMI updates through the procurement system and annual suppliers conference.

Conduct periodic review of suppliers in accordance with the latest list of approved smelters published by RMI. If a non-compliant smelter is discovered then a "Smelter Notice on Non-compliance of Non-Use" is immediately issued and a response required.

Maintain a long-term relationship with the greater majority of suppliers to improve compliance.
4. Third-party Audit
Compal encourages suppliers to source their minerals from non-conflict smelters approved by the RMAP or some other equivalent independent-third party audit programs. Suppliers are encouraged to provide related testing as well.
Compal PCBG and SDBG conducted due diligence on conflict minerals for 863 suppliers in 2022. A target recovery rate of 100% was set and achieved for questionnaires. Suppliers were reviewed on the basis of their questionnaire response including minerals, name of smelters, and source countries to facilitate the management and tracking of mineral sources. The list of smelters is disclosed to customers as well.
◎CMRT Survey Response Rate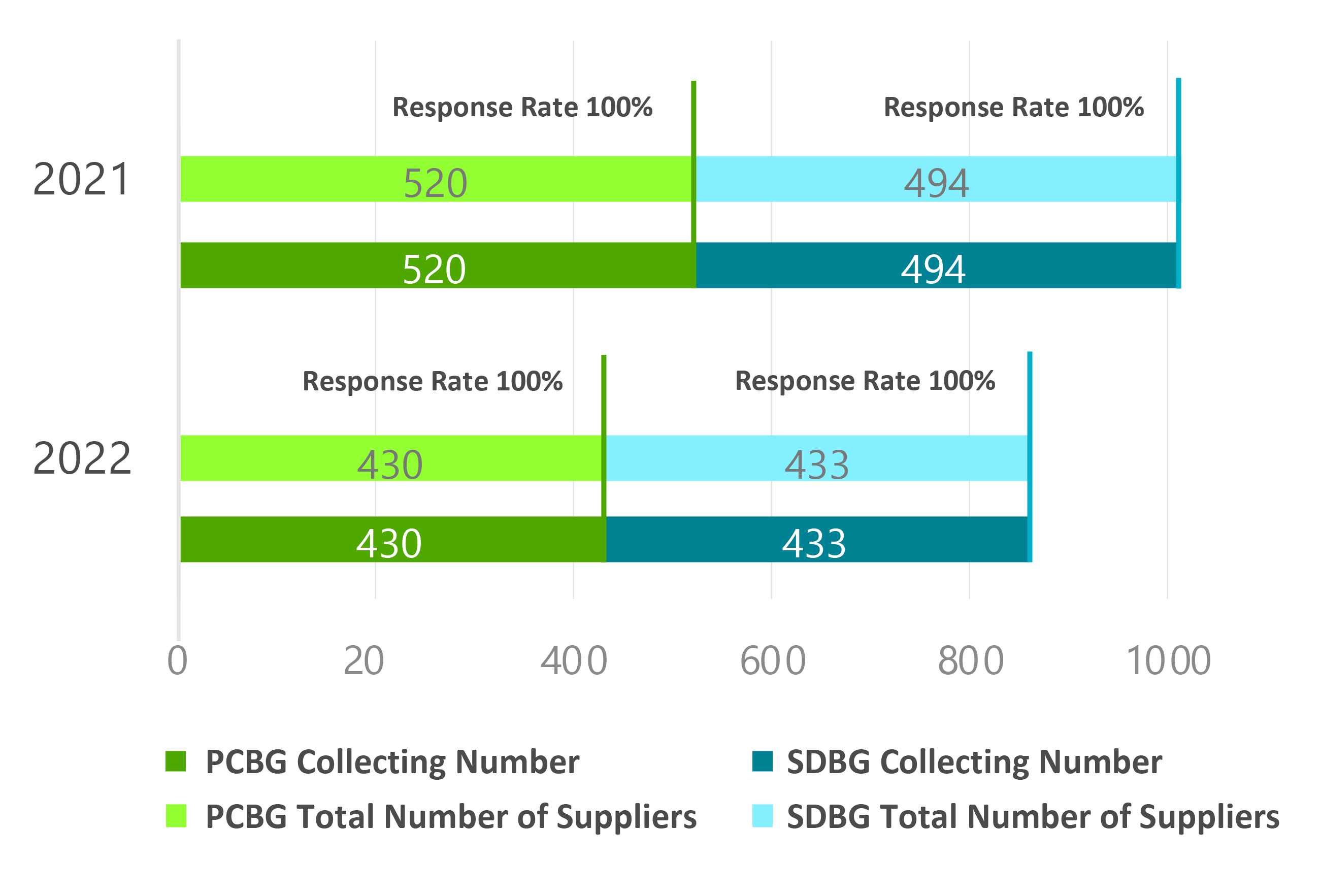 Note: CMRT Questionnaire -The Conflict Minerals Reporting Template (abbreviated as CMRT) is a list for corporations to collect and complete as a self-assessment document of whether or not they use conflict minerals. The contents record the 3TG smelters supplied by the corporation's suppliers. The document is compared with the list of approved conflict-free minerals smelters list announced by RMI to determine whether a supplier was in compliance or not.
◎2022 CMRT Approved Smelter Distribution
We analyzed the distribution of approved suppliers in the distribution. Most were located in Asia followed by the Americas. Compal and customers will continue require suppliers to ensure that all products in the Compal supply chain are free of conflict minerals.