Supplier Assessment and Audit
New Supplier Assessment
Because of the business operation differences, Compal has separated supplier management into PCBG and SDBG management units. We have developed appropriate and comparative supplier management procedures aimed at different business groups and different customers.
PCBG new supplier assessment
When a new supplier wishes to do business with Compal, it will be asked to complete and submit forms including "Supplier Basic Information Form,","Supplier Management Function Questionnaire," "Supplier Environment Management Checklist," "RBA Supplier Management Self-Assessment Questionnaire" (SAQ) along with other ISO certification documentations in accordance with the "ISO 902006 Procurement Management Regulations" and "ISO 902007 Qualified supplier Assessment Regulations."The assessment will cover different aspects of environment, safety, product liabilities, human rights and society. Suppliers are categorized as Type A or B depending on their attributes:

SDBG new supplier assessment
In accordance with the standards of ISO 9001 suppliers approval or disapproval management procedure, steps must be taken to ensure that a supplier has the capacity to satisfy Compal's requirements for product quality and shall be jointly reviewed by Procurement, QA, and R&D in the process of supplier assessment. Suppliers will be categorized into two groups depending on the outcomes of the evaluation: The definitions for Type A and Type B are as hown in the table. Upon the completion of new supplier assessment, the Procurement Unit shall notify the supplier that has applied and present the assessment report to said supplier. Outcome of the assessment falls under the following three classes: Grade A approval for manufacturing, Grade B temporary approval for manufacturing (with specific deadline for rectification) and Grade C manufacturing capacity (failure to meet the requirement). The lowest score awarded by Procurement, R&D and Quality personnel in the assessment shall be the final outcome of the assessment. Suppliers that have been granted temporary approval for manufacturing must propose strategies and action plans for improvement for the issue(s) identified during the assessment and can only be included in the list of qualified suppliers with the review and approval of relevant units. Should a supplier fail to submit a valid proposal for improvement within 3 month without closing the case, the supplier may not be included in the list of qualified suppliers.
Category

A






1.Leading Vendor

2.IC Design Company

3.Customer

4.Customer-designated supplier. If ODM models will be used then they must be changed to Type B and the relevant contracts signed in advance.

B

1.Manufacturers awaiting review
Recognition of suppliers shall be verified through in accordance with "Quality Agreement" and the environmental management assessment is to be arranged based on "Third Party Environment Management Checklist" as described in our "Third Party Management Procedure." The range of the investigation scope will be based on ISO 14001 environmental management system as we evaluate the suppliers' environmental policy and implementation; we have added an additional component of "Supplier Ethics Management and Green Management Assessment Sheet" which covers aspects including the prohibition of child labor, the prohibition of forced labor, employment policy, ethics management, conflict minerals, and green management system.
Compal conducts random on-site factory audits of existing qualified suppliers every year based on transaction amount and risk. Compal plans to strengthen sustainable supply chain management and in 2022, Compal introduced the concept of ESG (Environmental, Social, and Governance) into its audit processby by expanding the 2023 supplier audit to take (1) SAQ score (2) Legacy sustainability risk into account. Those with low SAQ scores or high legacy sustainability risks will be audited for enhanced supervision and tracing.
Compal will require suppliers to devise and execute improvement plans for all levels of defects. Priority defects will be monitored and the supplier actively required to make improvements. In 2022, Compal's Kunshan plant and Chongqing plants completed on-site audits of 11 suppliers. The audits found that supplier defects were mainly concentrated in "Labor." There were for example 56 cases of excessive work hours and rest days not being enforced; there were 52 secondary defects including inadequate environmental monitoring and environmental hygiene, and failure to keep proper records.
For such oversights, in addition to asking the suppliers to improve before a specific deadline and submit an improvement report, the Company will also conduct random audits for high-risk suppliers in order to address issues and oversights pertaining to labor. Compal completed the follow-up and reviews on the outcome of supplier audit within the same year. All 11 suppliers have undergone improvements for their deficiencies, resulting in a 100% improvement rate among the suppliers. The improvement rate for the identified deficiencies stands at 92%. The Company continues to monitor suppliers for excessive working hours. In the case of high-risk suppliers who fail to respond to improvement notifications for three consecutive times, discussions will be held regarding reducing the number of new projects awarded to them or decreasing the existing procurement volume. In severe cases, the supplier will be removed from the list of compliant suppliers.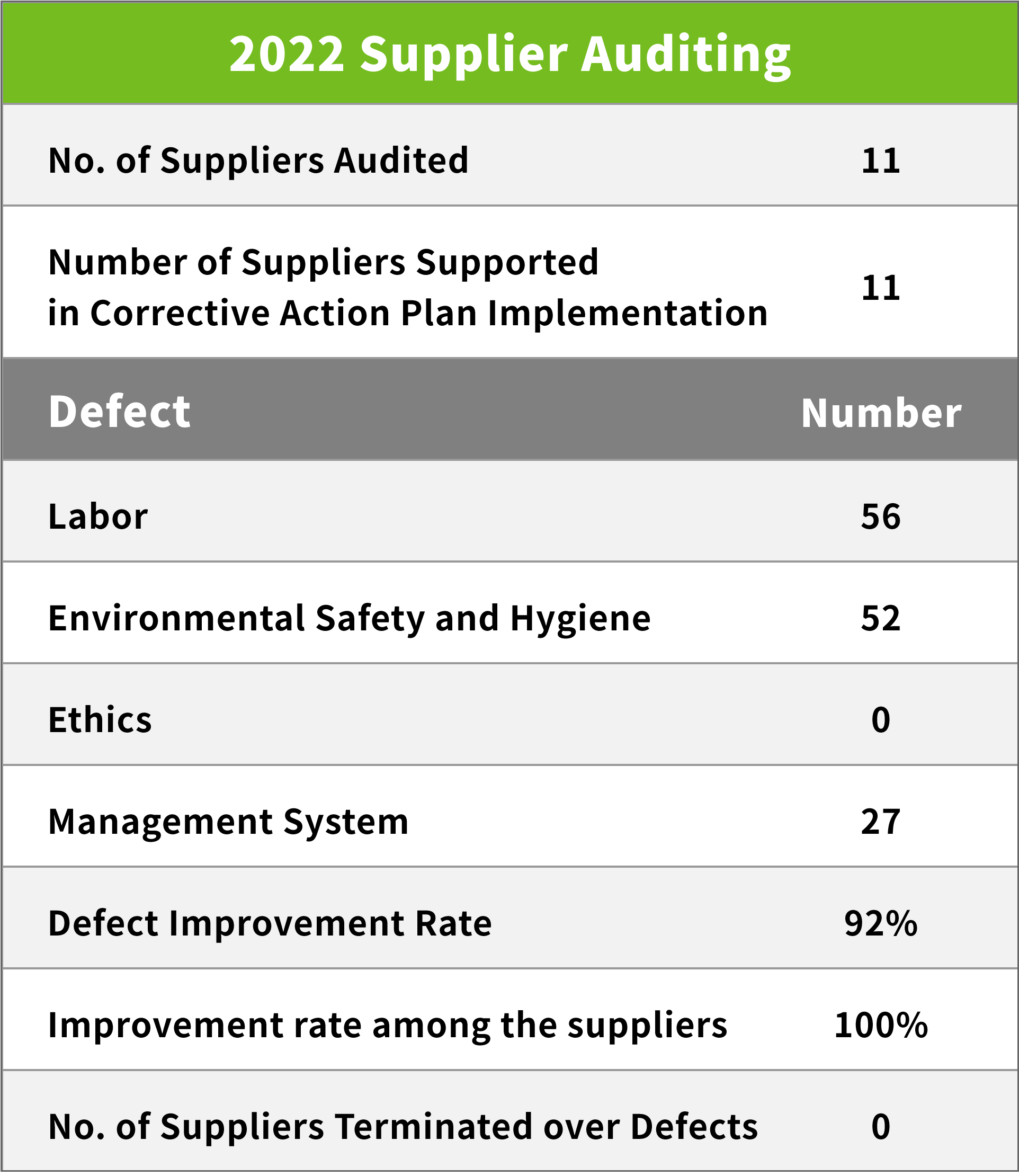 Updated on July 18, 2023