Corporate Environmental Education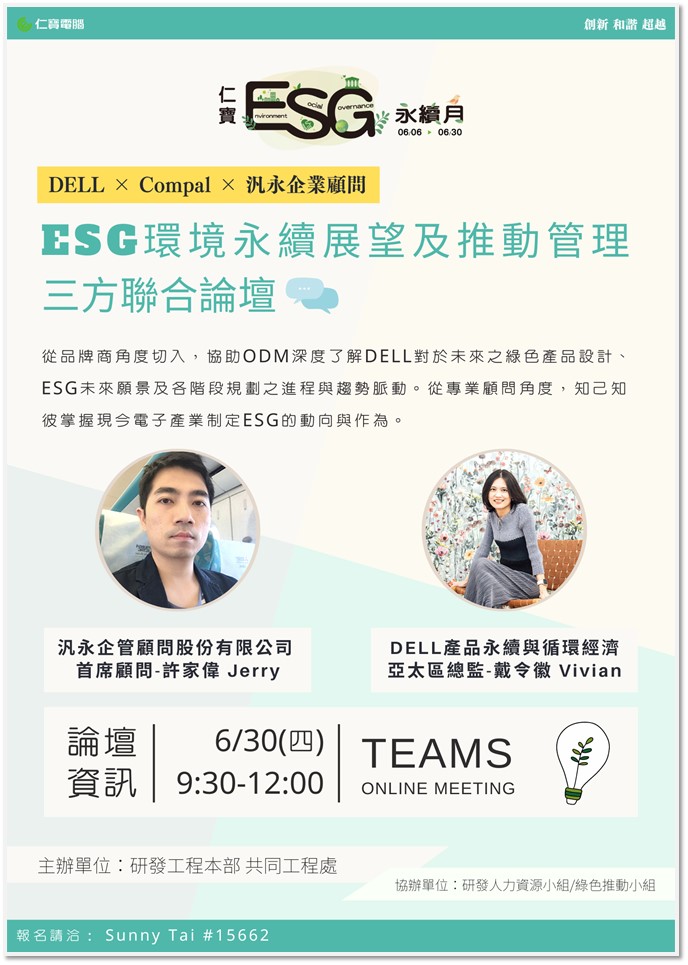 Compal continues to introduce corporate environmental education into employee training and green experience activities, including Nan'ao Natural Fields, Pinglin Organic Tea Protection Jade Reservoir, Kenting Crab Conservation Action, Waste 3C Recycling and Beach Cleaning Activities. The stories of life in every corner of Taiwan's landwhich have been shared by more than 5,000 people in recent years. In 2013, Compal won the "Excellence Award" in the private business group of the 2nd Taipei National Environmental Education Award. Committees fully supported the company from top to bottom, and colleagues and family members enthusiastically participated in the "experiential" environmental education action from the bottom up; Colleagues are using the power of consumers to choose safe food, adopt rice and tea, and give gifts to customers for the New Year, let demand change supply, and support sustainable agriculture, forestry, fishery, and animal husbandry. Every year, new employees take 1-hour environmental education online courses, including courses on green living, ecological conservation, climate change, green design, etc.; follow-up on-the-job training is included in the "green product" course as a compulsory item; deep cultivation courses are planned to discuss green design issues, and The core team was established to strengthen green energy efficiency products. In 2022, in order to promote sustainable development, the company launched ESG sustainability month in Ju
ne, and successively invite industry-related lecturers to share ESG topics for internal employees; The Joint Forum was enthusiastically participated and discussed by employees.
Supplier Greenhouse Gas Management Program
Compal sees suppliers as critical business partners and hopes to build long-term and stable supply chains through cooperation. In addition to supplier assessments, Compal also requires suppliers to devote their efforts to environmental protection.
We initiated the supplier of greenhouse gas management in 2016. The purpose of this program is to investigate how suppliers have adapted to the world of increasing greenhouse gases, shortened water resources, and climate change, as well as how well they have implemented responsive measures. Through periodic tracking, communication, experience sharing and information updates, we hope to stimulate learning among suppliers and create a green supply chain that can withstand changes in the natural environment.
Supply chain cooperation, working together for the environment
To work with our supply chain to do our part for the planet, Compal joined our customer ACER's "Acer Earthion Project" in 2019 for the recovery of old batteries and e-waste. In 2022, 114 employees took part in the program and collected 453 kg of e-waste. After four years, It has accumulated 713 participants and collected 3196.45 kg of e-waste. All proceeds were passed onto Acer and donated to the Orphan Welfare Foundation Taipei to help the children combat poverty and loneliness.
Compal attaches great importance to environmental sustainability. In 2020, with Environmental Information Center, Lite-On Technology, Advantech, Poseidon Global and Commonwealth Magazine to hold a circular economy enterprise joint beach cleaning, Sustain the natural environment of earth, and responding to the 14th "Life below Water" of the Sustainable Development Goals (SDGs) by the United Nations as the main approach for implementation. 320 environmental volunteers from various major companies cleaned up 1,705 kilograms of marine debris at Linkou Jiabao Beach. (https://www.youtube.com/watch?v=sWe8dMMEZa0)
In 2021, Compal once again conducted corporate beach cleaning activities with Gigabyte Technology and Lite-On Technology. On the Worry-Free Valley Coast of Keelung City, a total of 300 business partners collected 1237.4 kilograms of trash.
In 2022, Compal conducted corporate beach cleaning activities with Environmental Resources Information Co.Ltd, LiteOn, Advantech, Samsung, and Nanya. At the Jinshan-Wanli, more than 600 people took part in the coastal clean-up and removed approximately 911 kg of ocean waste from Yuantan River mouth and the beaches at Xialiao and Dingliao.